Arte Mundi: Lead the Floor Industry with "Aesthetics" | JD Star
2017-04-21
Source: Tencent Household
In the last few decades, despite rapid development, the floor industry has been focusing on competitions in low price and basic functions, and excess capacity, price wars and product homogenization have been prevalent. With consumption upgrading in the household industry and increased level of public aesthetic judgment, the floor industry, just as other industries, are experiencing reshuffle before the settling of a new competitive landscape.
Under such background, an enterprise with "constructing a literary identity and creating an aesthetic life" as its mission, found its way out with the pioneering "aesthetic floor". By integrating aesthetic ideas into floor design, manufacturing, sales and consumption, the enterprise advocates its core value that "beauty may bring about added value". This is a new power amidst the new landscape of the floor industry – Arte Mundi.
In 2017, Power Dekor's sales team, led by its CEO Guo Hui, joined Arte Mundi and became its key shareholder. Guo Hui is fully responsible for Arte Mundi's business operation, empowering Arte Mundi to have more precise market deployment and more detailed working plans in 2017. With the progress of time, relatively niche products became more widely accepted. As a result, the chemical reaction produced by high-end and distinctive products plus national deployment and capable sales teams can be evident. With Guo Hui as its CEO, what major moves will Arte Mundi take in sales channels and product types? What are its new strategic plans for development?
With consumption upgrade, aesthetic floors win unprecedented recognition
According to industrial data, since 2008, the growth in the floor industry has slowed down. Based on incomplete statistics by the Specialized Floor Committee of China National Forest Products Industry Association (CNFIA), the total sales of scaled domestic floor enterprises amounted to roughly 380 million m2 in 2015, down by around 2.2% year-on-year, and many listed companies experienced poorer sales performance and less profit. Which kind of brands can excel and rapidly capture the market facing intensified market saturation and continuous consumption upgrade? The answer is obvious: those featuring high-end positioning, quality product and aesthetic design.
As an enterprise first putting forward the concept of aesthetic floor, Arte Mundi has a clear market positioning: by integrating aesthetics into floor manufacturing, sales and consumption, it fundamentally changes the traditional concept that floors are simply a ground covering material, advocates the core value of "beauty may bring about added value", and gives clients more aesthetic enjoyment.
With such market positioning and product power, its advantages are evident. First, Arte Mundi endows the floor with more visual enjoyment and spiritual value on top of its basic function of utility, bringing its products closer to the spatial needs and aesthetic appreciation of the well-heeled; Second, its unique design, craft and technique creates a perfect combination between humanities and art and forms into a competitive edge; Third, having satisfied the basic usage requirement of the well-heeled, it leads the trend of floor aesthetic consumption with its fashionable and noble makings, and further exerts influence on medium-high and medium consumer clusters.
Advancing with the times, Arte Mundi rebuilds business mode
With a clear market positioning, Arte Mundi has a clearer blueprint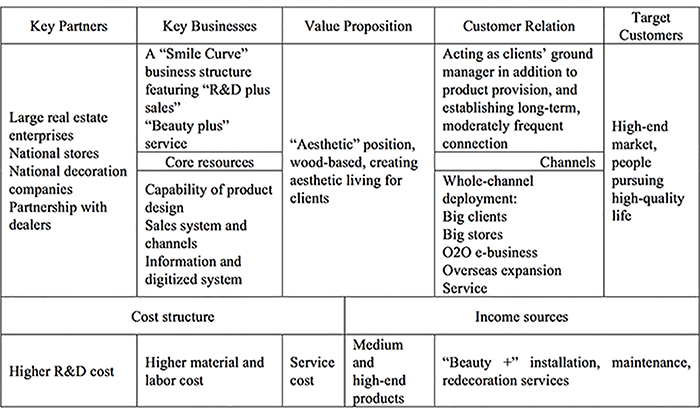 Reconstruction of Arte Mundi's business mode
Reconstruction of value proposition and customer segmentation. In reaction to supply-side reform, Arte Mundi successfully transforms itself from producing products labeled as "Made in China" to "Created in China", and imbues into its value proposition the spirit of floor refinement, aesthetics and individuation.
Reconstruction of core resources. Keeping up with the changes of time and consumers' aesthetic perception, Arte Mundi, together with famous higher education institutions and scientific research institutes including the Academy of Arts & Design of Tsinghua University and China Central Academy Of Fine Arts, integrates industrial resources to strengthen its R&D team, and continuously improves its R&D capacity and added aesthetic value of the floor. Aside from pursuing for high quality, the enterprise seeks for product variety, individuation and customization. The desired lifestyle, be it elegant, classic, luxurious, vintage, primitive, fresh, sunny or individual, can always be realized with Arte Mundi's products.
Reconstruction of key cooperation. During its development process, Arte Mundi not only actively deepens its exclusive strategic cooperation with the globally-famous luxury brand Swarovski, but also maintains long-term cooperation with two century-old Italian floor brands, in an effort to draw from their advantages in crafts and manufacturing and make continuous innovation and breakthroughs. Since 2017, Arte Mundi will make more efforts to introduce famous foreign floor brands through share-controlling or cooperation.
Arte Mundi's blueprint: strategic deployment plus channel sinking
The participation of Power Dekor's sales team into Arte Mundi as a shareholder also signifies more precise market deployment and detailed working plans in 2017. In the interview, Guo Hui introduced that this year, the enterprise would further increase its market share by means of channel expansion and product diversification.
With the help of its sales team, Arte Mundi will start from East China and quickly forge into China's major third-tier cities, further improving traditional retail channels. By fully utilizing the Internet, and firstly considering feelings of end consumers, the enterprise will build online product publicity stores and offline solid experience stores (O2O new retail platforms) into perfection, so as to greatly enhance brand power and create growth momentums.
With regard to its long-term plans, while Arte Mundi aims to diversify products to a full range, its market positioning will stay unchanged. Besides ensuring high product quality, and satisfying consumer requirement for design and appearance, Arte Mundi will make the floor more functional, and more suitable for household use, explained by Guo Hui.
As the "inventor" of "aesthetic" floor, the market positioning of Arte Mundi is self-evident. Facing increased level of aesthetic appreciation of a new generation of customers, aesthetic floor will undoubtedly become the mainstream and enjoy abundant development space in the years to come. Facing the quickly-changing household market, enterprises should give full consideration to improving brand influence and products. From the perspective of influential industry players, amidst the complex household market, only by staying true to the initial determination can one realize its long-term development.